Browse Items (3 total)
Tags: Canadian Union of Public Employees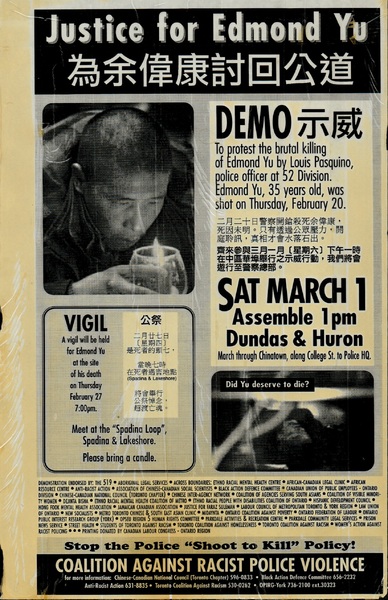 Poster advertising a rally to demand justice for the police murder of Edmond Yu.
Tags: 1997, 519 Church Street Community Centre, Aboriginal Legal Services, Across Boundaries: Ethno Racial Mental Health Centre, African Canadian Legal Clinic, African Resource Centre, Anti-Racist Action, Association of Chinese-Canadian Social Scientists, Black Action Defence Committee, Canadian Union of Public Employees, Chinese Canadian National Council, Chinese Inter-Agency Network, Coalition Against Racist Police Violence, Coalition of Agencies Serving South Asians, Coalition of Visible Minority Women, Dejinta Bisha, Edmond Yu, Ethno Racial Mental Health Coaltion of Metro, Ethno Racial People with Disabilities Coalition of Ontario, Hispanic Development Council, Hong Fook Mental Health Association, Jamaican Canadian Association, Justice for Farez Sulemon, Labour Council of Metropolitan Toronto and York Region, Law Union of Ontario, Metro Toronto Chinese and South East Asian Clinic, Midaynta, New Socialists, Ontario Coalition Against Poverty, Ontario Federation of Labour, OPIRG-York, Opseu Region 5 Human Rights Committee, Parkdale Activities and Recreational Centre, Parkdale Legal Services, Police Brutality, Prison News Service, Street Health, Students Against Toronto Racism, Toronto Coalition Against Homelessness, Toronto Coalition Against Racism, Women's Action Against Racist Policing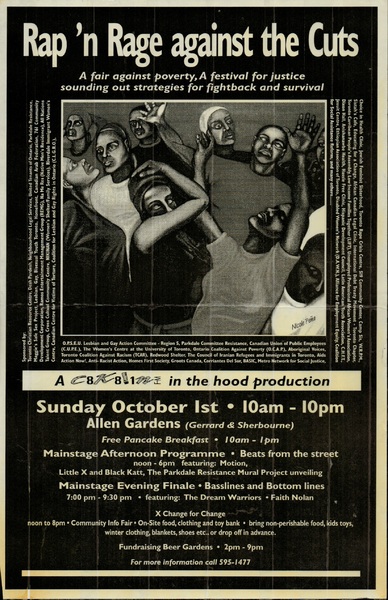 Poster for "a fair against poverty, a festival for justice, sounding out strategies for fightback and survival."
Tags: 761 Community Development Corporation, Aboriginal Voices, African Canadian Legal Clinic, AIDS Action Now!, All Nations Talent Group, Allan Gardens, Alliance for Employment Equity, Anishanawbe Health, Anti-Racist Action, BASIC, Camp Sis, Canadian Arab Federation, Canadian Centre for Victims of Torture, Canadian Union of Public Employees, CHFT, Choice in Health Clinic, CKLN, Coalition for Social Assistance Reform, Coaltion for Lesbian and Gay Rights in Ontario, Corriantes Del Sur, Council on Iranian Refugees and Immigrants in Toronto, Cross Cultural Community Centre, Desh Pardesh, Disabled Women's Network, Dixon Hall, Dream Warriors, Educating for a Change, Ethiopian Association of Toronto, Faith Nolan, Groots Canada, Hassle Free Clinic, Hispanic Development Council, Homefront, Homes First Society, International Debt Treaty Movement, Jesuit Centre, Jewish Feminist Sisterhood, Latin American Youth Association, Lesbian Gay Bisexual Youth Toronto, Little X and Black Katt, Low Income Families Together, Maggie's Safe Sex Project, Metro Network for Social Justice, Motion, Na Me Res, Neighbourhood Legal Services, Nicole Peña, NIKINAN, Ontario Coalition Against Poverty, OPSEU Lesbian and Gay Action Committee, Parkdale Committee Resistance, Parkdale Resistance, Parkdale Resistance Mural Project, Ramos Entertainment Management Group, Redwood Shelter, Riverdale Immigrant Women's Centre, Sistah's Cafe, Toronto Caribbean People's Assembly, Toronto Christian Resource Centre, Toronto Coalition Against Racism, Toronto Rape Crisis Center, Unemployed Professional African Women's Association, United Tenants of Ontario, Women's Centre at the University of Toronto, WRPM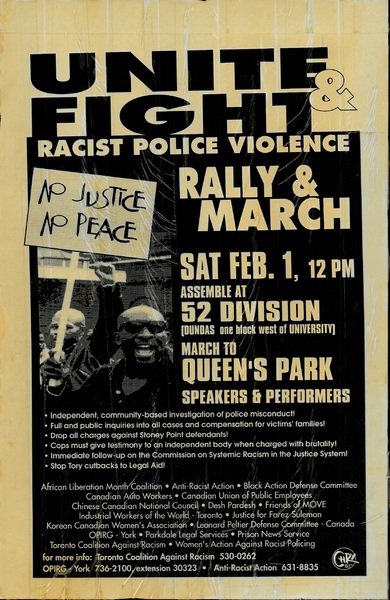 Poster for rally and march protesting police violence.
Tags: 1997, 52 Division, African Liberation Month Coalition, Anti-Racist Action, Black Action Defence Committee, Canadian Auto Workers, Canadian Union of Public Employees, Chinese Canadian National Council, Desh Pardesh, Dundas Street East, Friends of MOVE, IWW, Justice for Farez Sulemon, Korean Canadian Women's Association, Leonard Peltier Defense Committee, OPIRG-York, Parkdale Legal Services, Prison News Service, Toronto Coalition Against Racism, Women's Action Against Racist Policing