The Ministry of Keeping Everything Absolutely the Same
Title
The Ministry of Keeping Everything Absolutely the Same
Description
This hand painted billboard bolted to the top of an abandoned building at Queen and John was a political parody referring to the billboards for the movie 1984.
Creator
Rocky Zenyk Dobey
Contributor
Lilian Radovac
Coverage
Queen Street West and John Street.
Context
This building was previously a chicken slaughter house called A. Stork and Sons. The movie 1984 just was released and this was a political message that was done in a similar style. These billboards were done because the mainstream billboards that were politically modified never lasted more than a day. I hope to find some photos of those billboard modifications.
Files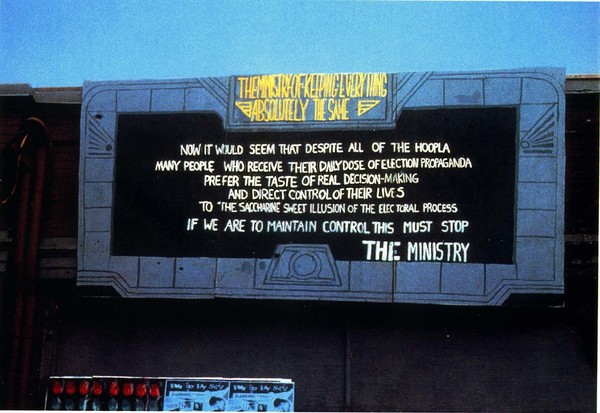 Collection
Citation
Rocky Zenyk Dobey, "The Ministry of Keeping Everything Absolutely the Same,"
Alternative Toronto
, accessed August 11, 2022,
https://www.alternativetoronto.ca/archive/items/show/200
.