Black Wedge tour poster: Saskatoon
Title
Black Wedge tour poster: Saskatoon
Description
A poster advertising the Saskatoon stop on the Black Wedge Tour.
Coverage
Club 23 Below, 12B 23rd Street East, Saskatoon
Context
A tour of activist resistance culture organized by Jean Smith of the band Mecca Normal, which set out to "spread the word of how to combine poetry, music and politics and have a fun time doing it."
The Black Wedge was an anti-authoritarian response to Britain's earlier Red Wedge, and began on the West Coast in 1986 before continuing across Canada in 1987. The performers included Vancouver's Mecca Normal, San Francisco's Peter Plate, Montreal's Rhythm Activism and Toronto artists Bryan James and Mourning Sickness.
To learn more, read this excerpt from Smith's essay "The Black Wedge Tours: Take Something You Care About and Make it Your Life," in Sounding Off — Music as Resistance / Rebellion / Revolution, eds. Ron Sakolsky and Fred Ho, (New York: Autonomedia, 1996).
Physical Dimensions
8 1/2 X 14
Files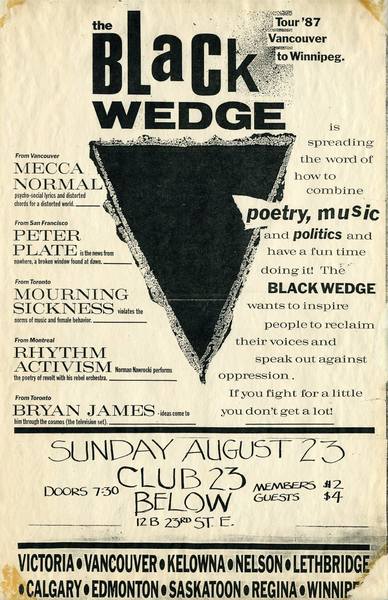 Collection
Citation
Mecca Normal, "Black Wedge tour poster: Saskatoon,"
Alternative Toronto
, accessed August 14, 2022,
https://www.alternativetoronto.ca/archive/items/show/497
.