Browse Items (9 total)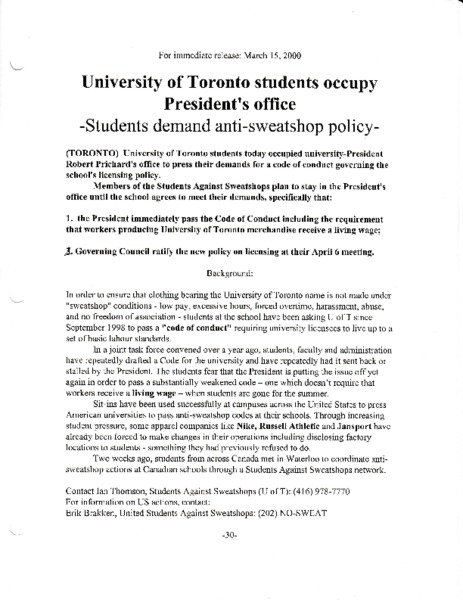 Students occupied the office to demand an anti-sweatshop policy.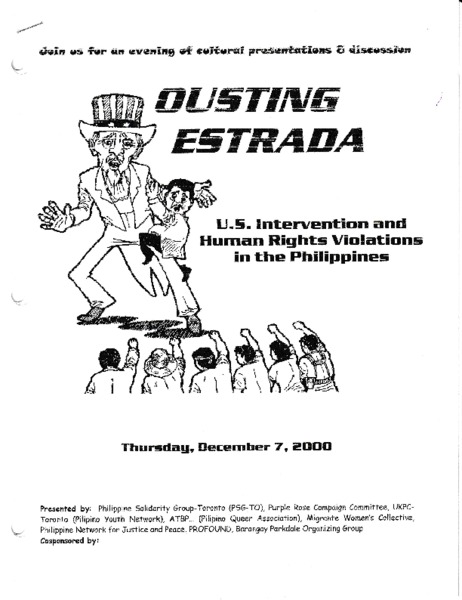 Flyer advertising an evening of cultural presentations and discussion about U.S. intervention in the Philippines.
Tags: 2000, ATBP, B.C. Committee for Human Rights in the Philippines, Barangay Parkdale Organizing Group, Centre for Philippine Concerns-Montreal, Filipino Homemakers Association, Filipino Nurses Support Group, Filipino Workers Support Group, KAMPI-Movement of Filipino Workers in Manitoba, Migrante Women's Collective, Montreal Coalition of Filipino Students, Movement of Filipino Workers, Nancy Hayale, OPIRG-Toronto, Philippine Network for Justice and Peace, Philippine Solidarity Group-Toronto, Philippine Women Centre of B.C., PINAY-Filipino Women's Organization, PROFOUND, Purple Rose Campaign Committee, SIKLAB (Filipino migrant workers' Organization), Ugnayan ng Kabataang Pilipino sa Canada (UKPC-Toronto)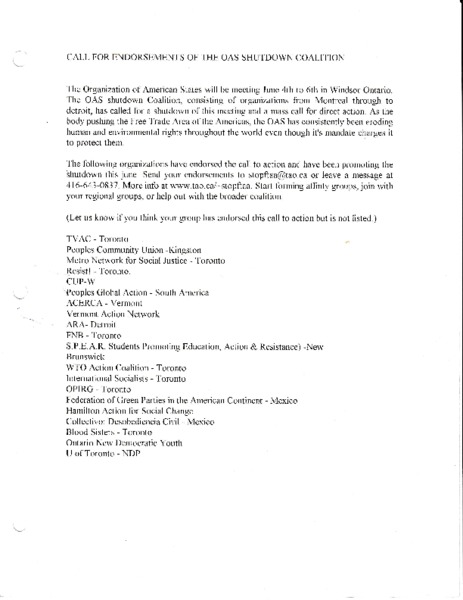 Call for endorsements of the OAS shutdown coalition.
Tags: 2000, ACERCA, Anti-Racist Action, Blood Sisters-Toronto, Collective Disobediance Civil, CUP-W, Federation of Green Parties in the American Continent, FNB, Hamilton Action for Social Change, International Socialists-Toronto, Metro Network for Social Justice, OAS Shutdown Coalition, Ontario New Democratic Youth, OPIRG-Toronto, Organization of American States, Peoples Community Union, Peoples Global Action, Resist! -Toronto, Students Promoting Education Action & Resistance, TVAC-Toronto, U of T Toronto-NDP, Vermont Action Network, Windsor, WTO Action Committee-Toronto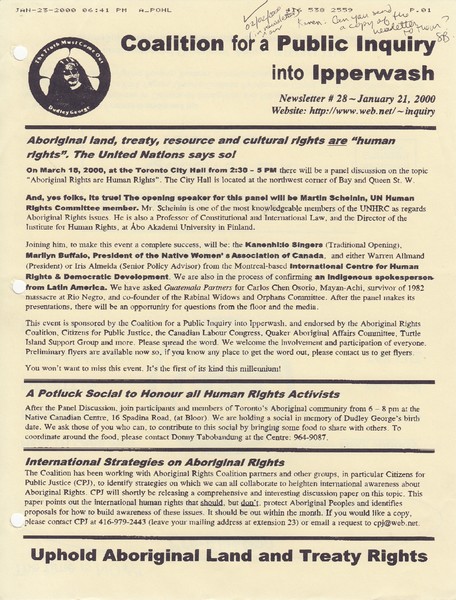 Issue of a newsletter created by the Coalition for a Public Inquiry into Ipperwash.
Tags: 2000, Aboriginal Rights Coalition, Canadian Labour Congress, Citizens for Public Justice, Coalition for a Public Inquiry into Ipperwash, Dudley George, International Centre for Human Rights & Democratic Development, Marilyn Buffalo, Native Canadian Centre, Native Women's Association of Canada, Quaker Aboriginal Affairs Committee, Station C, Turtle Island Support Group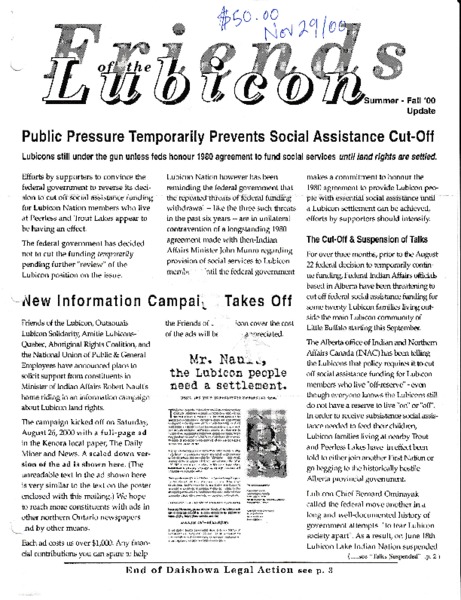 Document consists of two pages of the Friends of the Lubicon Summer/Fall 2000 newsletter. The header for the newsletter reads: "Public Pressure Temporarily Prevents Social Assistance Cut-Off: Lubicons still under the gun unless feds honour 1980…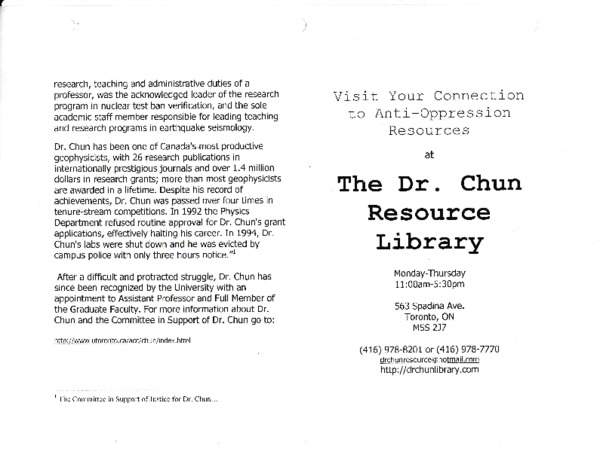 Flyer describes the Dr. Chun Resource Library, a joint initiative between OPIRG Toronto and The Centre for Women and Trans People at UofT.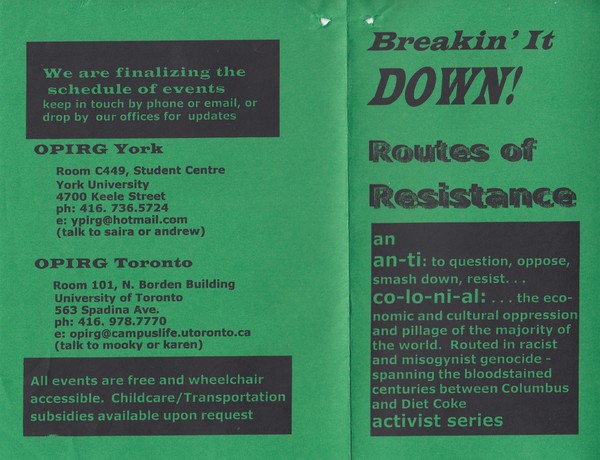 Flyer advertising events that were part of the 2000 OPIRG activist series: "Routes of Resistance". Events included topics such as combatting police brutality, trans, queer, two spirt and POC activist organizing, cuban solidarity, Indigenous land…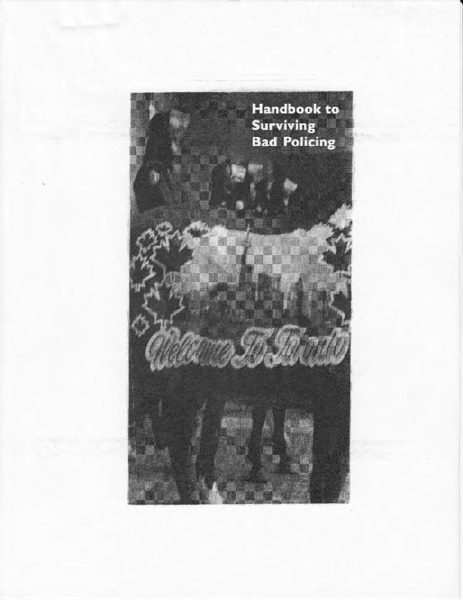 A Handbook to Surviving Bad Policing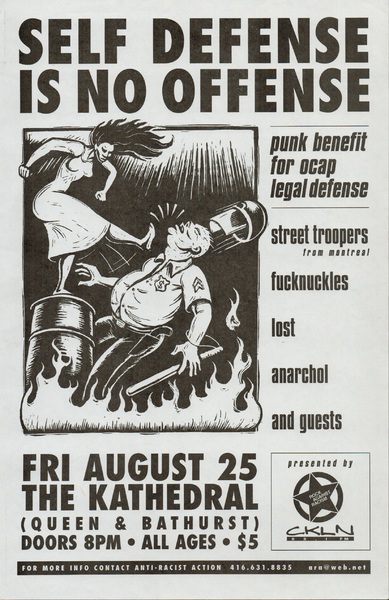 Poster advertising a "punk benefit for ocap legal defense"