Rock Against Racism show poster
Title
Rock Against Racism show poster
Description
A poster for a 1993 Rock Against Racism benefit show held at Classic Studios. Featuring Dinner is Ruined, Lambdamage and Splay.
Creator
Toronto Anti-Racist Action
Source
Arm the Spirit archive
Coverage
Classic Studios, 12-A Ossington Street
Context
This Rock Against Racism event was held as a benefit to support Sivarajah Vinasithamby, a Tamil man beaten by Heritage Front member Jason Hoolans. Hoolans was leaving a racist rock concert featuring RaHoWa the night that he attacked Vinasithamby. [SN]
Physical Dimensions
8 1/2 x 11
Files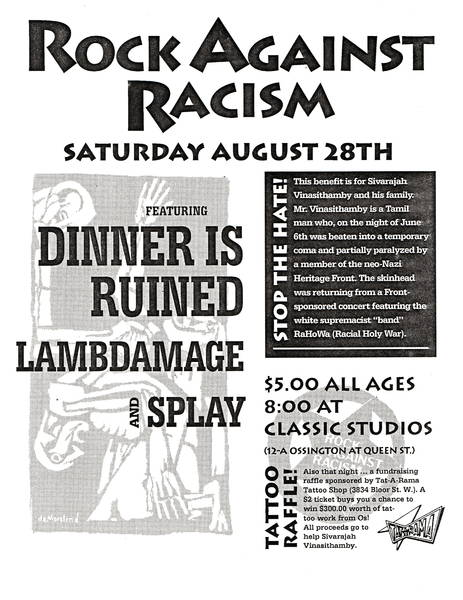 Collection
Citation
Toronto Anti-Racist Action, "Rock Against Racism show poster,"
Alternative Toronto
, accessed August 15, 2022,
https://www.alternativetoronto.ca/archive/items/show/252
.