Anarchist Unconvention/Survival Gathering Scrapbook
Title
Anarchist Unconvention/Survival Gathering Scrapbook
Description
Collection of newspaper articles and other documents that were scanned and assembled into scrapbook.
Source
Collection of Colin Hinz and Catherine Crockett
Contributor
Simon Vickers
Coverage
519 Church Street, Toronto
Context
A collection of news coverage on the Anarchist Unconvention/Survival Gathering. Also includes a press release by the organizers of the event. [text by SV]
Original Format
Scrapbook of Photocopies
Files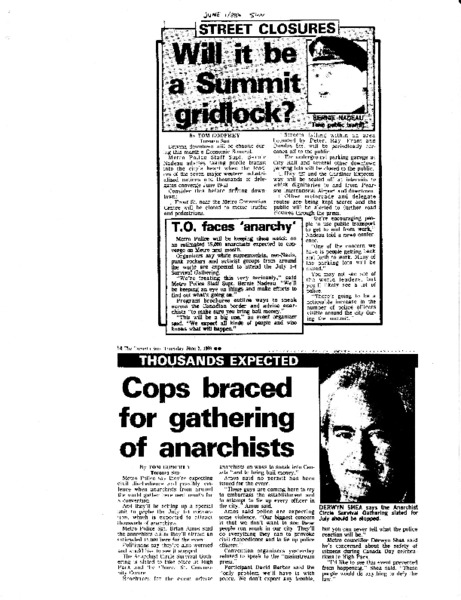 Collection
Citation
Colin Hinz, "Anarchist Unconvention/Survival Gathering Scrapbook,"
Alternative Toronto
, accessed August 14, 2022,
https://www.alternativetoronto.ca/archive/items/show/266
.