Motorcycle Trio
Description
A photo of mixed genre band, Random Order, whose sound included mainly ska, reggae, with hints of punk and funk, and who identified as queer and LGBTQ. People in the photo from front to back: Rachel Melas (bass), Lynx Dean (guitar & vocals), Conny Nowe (drums).

Source
Personal collection
Coverage
Sorauren Avenue warehouse courtyard.
363-369 Sorauren Avenue, Toronto, Ontario, M6R 3C1
Context
The photo was taken in the warehouse courtyard at Sorauren Avenue. These were live/work warehouses where Random Order (band in pic), Mother Tongue & Blue Rodeo lived & many other bands rehearsed in. These warehouses are now condos known as Robert Watson Lofts.
It was taken I believe in 1993 and that photo was used on the inside cover of the bands second cassette called "Soul Control. Things Fall Apart" the track just released was the 4th song on side A of the cassette. The photo was taken specifically for the inside cover and as a band photo to send with hard press packs to festivals & clubs. I always wanted a motorcycle so we hopped on Conny's (the drummer) bike it was a blast. I finally got my motorcycle license in 2000.
Files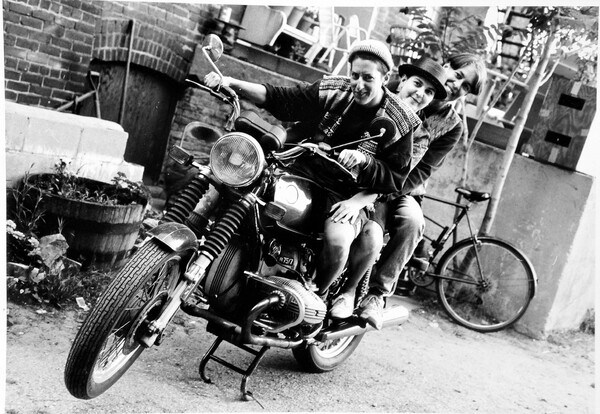 Collection
Citation
Lynx Dean, "Motorcycle Trio,"
Alternative Toronto
, accessed August 11, 2022,
https://www.alternativetoronto.ca/archive/items/show/719
.