Browse Items (3 total)
Tags: Aboriginal Defence League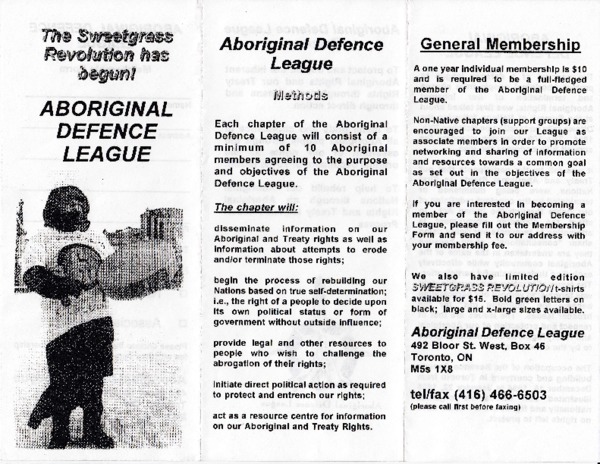 Flyer describing what the Aboriginal Defense League does and inviting new members.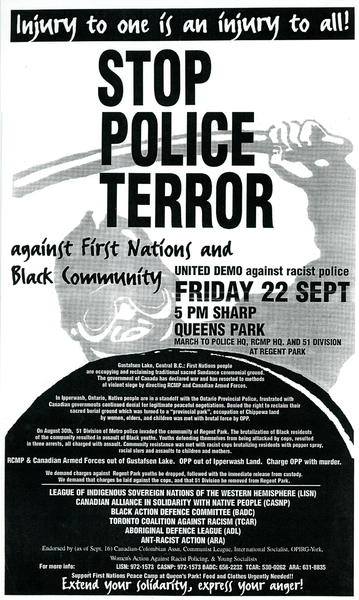 Poster for a demonstration against police racism which rallied at Queen's Park and marched to Police Headquarters (College Street) and to 51 Division.
Tags: 51 Division, Aboriginal Defence League, Anti-Racist Action, Black Action Defence Committee, Canadian Alliance in Solidarity with Native Peoples, Canadian Columbian Association, Communist League, First Nations Peace Camp, Gustafsen Lake, International Socialists, Ipperwash, League of Indigenous Sovereign Nations of the Western Hemisphere, OPIRG-York, RCMP, Regent Park, Toronto Coalition Against Racism, Women's Action Against Racist Policing, Young Socialists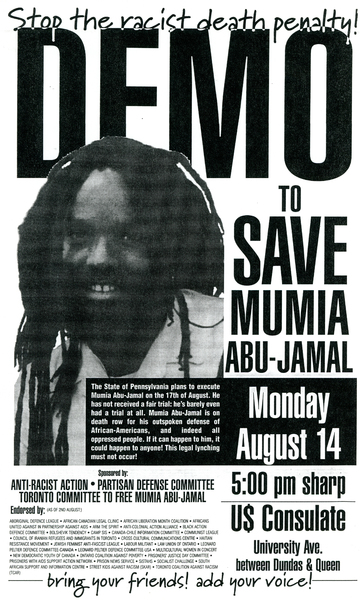 Poster for a demonstration at the US Consulate held in support of Mumia Abu-Jamal.
Tags: 1995, Aboriginal Defence League, African Canadian Legal Clinic, African Liberation Month Coalition, Africans United Against In Partnership Against AIDS, Anti-Colonial Action Alliance, Anti-Racist Action, Arm The Spirit, Black Action Defence Committee, Bolshevik Tendency, Camp Sis, Canada-Chile Information Committee, Communist League, Council of Iranian Refugees and Immigrants In Toronto, Cross Cultural Communications Centre, Haitian Resistance Movement, Jewish Feminist Anti-Fascist League, Labour Militant, Law Union of Ontario, Leonard Peltier Defence Committee-Canada, Leonard Peltier Defence Committee-USA, Multicultural Women In Concert, Mumia Abu Jamal, New Democratic Youth of Canada, OCAP, Ontario Coalition Against Poverty, Partisan Defense Committee, Prison News Service, Prisoners With AIDS Support Action Network, Prisoners' Justice Day Committee, Sistah's Cafe, Socialist Challenge, South African Support and Information Centre, Street Kids Against Racism (SKAR), Toronto Coalition Against Racism, Toronto Committee to Free Mumia Abu-Jamal