Browse Items (3 total)
Tags: Law Union of Ontario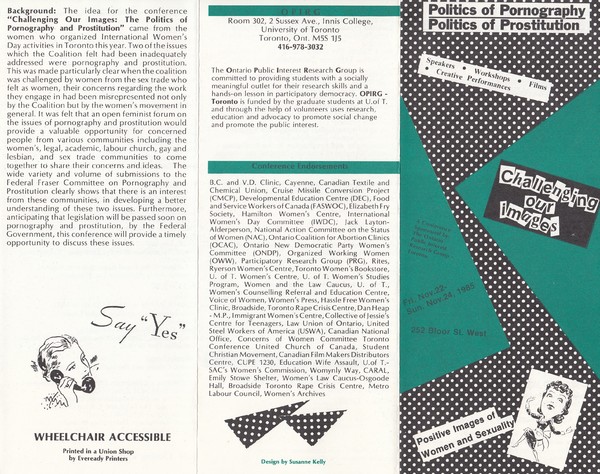 Flyer advertising an upcoming conference on feminism, porn and sex work.
Tags: B.C. and V.D. Clinic, Bloor Street West, Broadside, Broadside Toronto Rape Crisis Centre, Canadian Film Makers Distributors Centre, Canadian National Office, Canadian Textile and Chemical Union, CARAL, Cayenn, Collective of Jessie's Centre for Teenagers, Concerns of Women Committee Toronto, Cruise Missile Conversion Project, CUPE 1230, Dan Heap, Development Education Centre, Education Wife Assault, Elizabeth Fry Society, Emily Stowe Shelter, Feminism, Food and Service Workers of Canada, Hamilton Women's Centre, Hassle Free Women's Clinic, Immigrant Women's Centre, International Women's Day, International Women's Day Committee, Jack Layton, Law Union of Ontario, Metro Labour Council, National Action Committee on the Status of Women, OISE, Ontario Coalition for Abortion Clinics, Ontario New Democratic Party Women's Committee, OPIRG-Toronto, Organized Working Women, Participatory Research Group, Porn, Rites, Ryerson Women's Centre, Sex Work, Student Christian Movement, Toronto Rape Crisis Centre, Toronto Women's Bookstore, U of T Women's Centre, U of T Women's Studies Program, U of T-SAC's Women's Commission, United Church of Canada, United Steel Workers of America, University of Toronto, Voice of Women, Women and the Law Caucus, Women's Archive, Women's Counselling Referral and Education Centre, Women's Law Caucus-Osgoode Hall, Women's Press, Womynly Way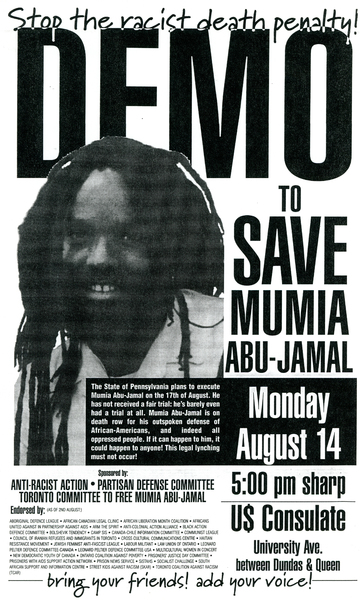 Poster for a demonstration at the US Consulate held in support of Mumia Abu-Jamal.
Tags: 1995, Aboriginal Defence League, African Canadian Legal Clinic, African Liberation Month Coalition, Africans United Against In Partnership Against AIDS, Anti-Colonial Action Alliance, Anti-Racist Action, Arm The Spirit, Black Action Defence Committee, Bolshevik Tendency, Camp Sis, Canada-Chile Information Committee, Communist League, Council of Iranian Refugees and Immigrants In Toronto, Cross Cultural Communications Centre, Haitian Resistance Movement, Jewish Feminist Anti-Fascist League, Labour Militant, Law Union of Ontario, Leonard Peltier Defence Committee-Canada, Leonard Peltier Defence Committee-USA, Multicultural Women In Concert, Mumia Abu Jamal, New Democratic Youth of Canada, OCAP, Ontario Coalition Against Poverty, Partisan Defense Committee, Prison News Service, Prisoners With AIDS Support Action Network, Prisoners' Justice Day Committee, Sistah's Cafe, Socialist Challenge, South African Support and Information Centre, Street Kids Against Racism (SKAR), Toronto Coalition Against Racism, Toronto Committee to Free Mumia Abu-Jamal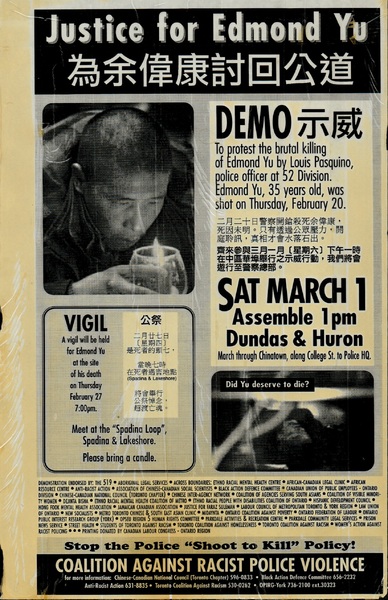 Poster advertising a rally to demand justice for the police murder of Edmond Yu.
Tags: 1997, 519 Church Street Community Centre, Aboriginal Legal Services, Across Boundaries: Ethno Racial Mental Health Centre, African Canadian Legal Clinic, African Resource Centre, Anti-Racist Action, Association of Chinese-Canadian Social Scientists, Black Action Defence Committee, Canadian Union of Public Employees, Chinese Canadian National Council, Chinese Inter-Agency Network, Coalition Against Racist Police Violence, Coalition of Agencies Serving South Asians, Coalition of Visible Minority Women, Dejinta Bisha, Edmond Yu, Ethno Racial Mental Health Coaltion of Metro, Ethno Racial People with Disabilities Coalition of Ontario, Hispanic Development Council, Hong Fook Mental Health Association, Jamaican Canadian Association, Justice for Farez Sulemon, Labour Council of Metropolitan Toronto and York Region, Law Union of Ontario, Metro Toronto Chinese and South East Asian Clinic, Midaynta, New Socialists, Ontario Coalition Against Poverty, Ontario Federation of Labour, OPIRG-York, Opseu Region 5 Human Rights Committee, Parkdale Activities and Recreational Centre, Parkdale Legal Services, Police Brutality, Prison News Service, Street Health, Students Against Toronto Racism, Toronto Coalition Against Homelessness, Toronto Coalition Against Racism, Women's Action Against Racist Policing