Browse Items (3 total)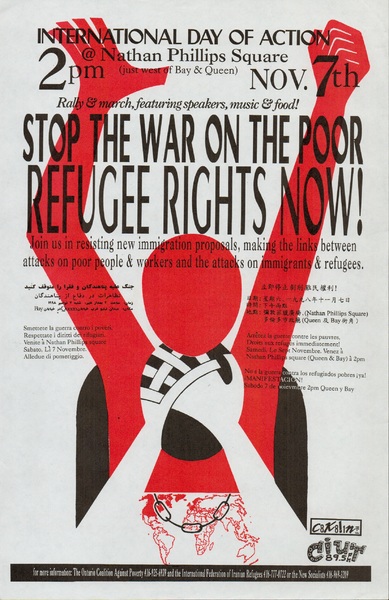 Poster advertising a "rally & march, featuring speakers, music & food!"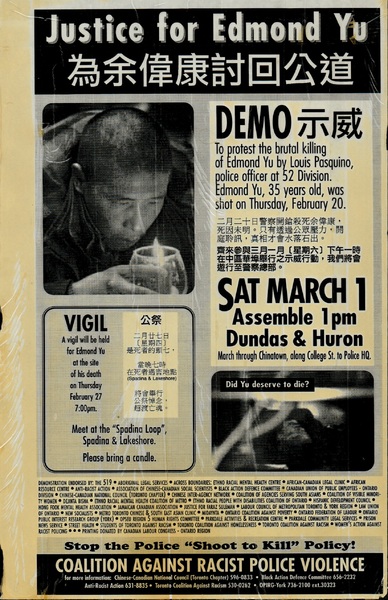 Poster advertising a rally to demand justice for the police murder of Edmond Yu.
Tags: 1997, 519 Church Street Community Centre, Aboriginal Legal Services, Across Boundaries: Ethno Racial Mental Health Centre, African Canadian Legal Clinic, African Resource Centre, Anti-Racist Action, Association of Chinese-Canadian Social Scientists, Black Action Defence Committee, Canadian Union of Public Employees, Chinese Canadian National Council, Chinese Inter-Agency Network, Coalition Against Racist Police Violence, Coalition of Agencies Serving South Asians, Coalition of Visible Minority Women, Dejinta Bisha, Edmond Yu, Ethno Racial Mental Health Coaltion of Metro, Ethno Racial People with Disabilities Coalition of Ontario, Hispanic Development Council, Hong Fook Mental Health Association, Jamaican Canadian Association, Justice for Farez Sulemon, Labour Council of Metropolitan Toronto and York Region, Law Union of Ontario, Metro Toronto Chinese and South East Asian Clinic, Midaynta, New Socialists, Ontario Coalition Against Poverty, Ontario Federation of Labour, OPIRG-York, Opseu Region 5 Human Rights Committee, Parkdale Activities and Recreational Centre, Parkdale Legal Services, Police Brutality, Prison News Service, Street Health, Students Against Toronto Racism, Toronto Coalition Against Homelessness, Toronto Coalition Against Racism, Women's Action Against Racist Policing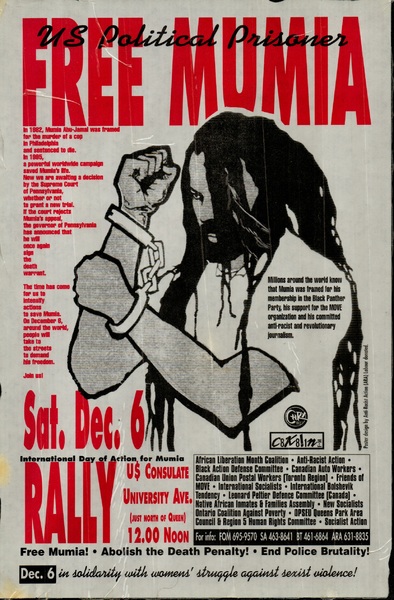 Poster advertising a rally at Toronto's U.S. consulate as part of an international day of action to free Mumia Abu-Jamal.
Tags: 1997, African Liberation Month Coalition, Anti-Racist Action, Black Action Defence Committee, Canadian Auto Workers, Canadian Union of Postal Workers, Friends of MOVE, International Bolshevik Tendency, International Socialists, Leonard Peltier Defense Committee, Mumia Abu Jamal, Native African Inmates and Friends Association, New Socialists, Ontario Coalition Against Poverty, Opseu Region 5 Human Rights Committee, Prison Justice, Socialist Action