Browse Items (3 total)
Tags: Development Education Centre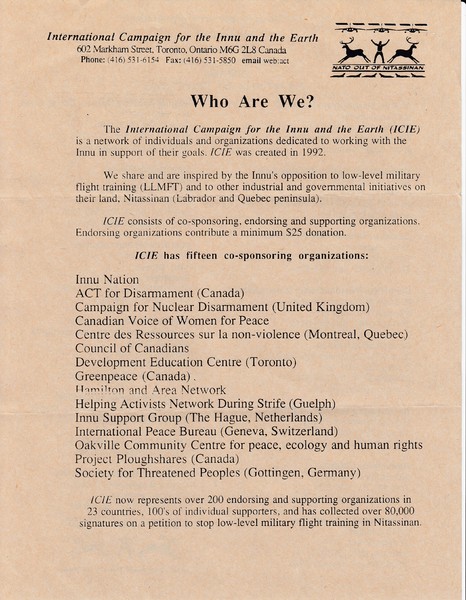 Flyer promoting the work of the ICIE and their co-sponsoring organizations.
Tags: ACT for Disarmament, Campaign for Nuclear Disarmament, Canadian Voice of Women for Peace, Centre des Ressources sur la non-violence, Council of Canadian, Development Education Centre, ecology and human rights, Greenpeace, Hamilton and Area Network, Helping Activists Network During Strife, Innu Nation, Innu Support Group, International Campaign for the Innu and the Earth, International Peace Bureau, Markham Street, Oakville Community Centre for peace, Project Ploughshares, Society for Threatened Peoples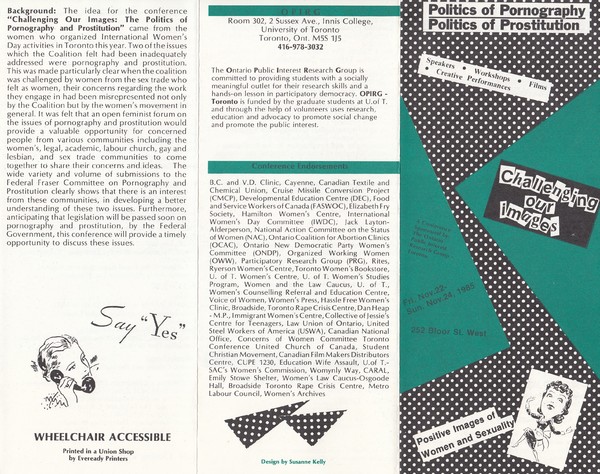 Flyer advertising an upcoming conference on feminism, porn and sex work.
Tags: B.C. and V.D. Clinic, Bloor Street West, Broadside, Broadside Toronto Rape Crisis Centre, Canadian Film Makers Distributors Centre, Canadian National Office, Canadian Textile and Chemical Union, CARAL, Cayenn, Collective of Jessie's Centre for Teenagers, Concerns of Women Committee Toronto, Cruise Missile Conversion Project, CUPE 1230, Dan Heap, Development Education Centre, Education Wife Assault, Elizabeth Fry Society, Emily Stowe Shelter, Feminism, Food and Service Workers of Canada, Hamilton Women's Centre, Hassle Free Women's Clinic, Immigrant Women's Centre, International Women's Day, International Women's Day Committee, Jack Layton, Law Union of Ontario, Metro Labour Council, National Action Committee on the Status of Women, OISE, Ontario Coalition for Abortion Clinics, Ontario New Democratic Party Women's Committee, OPIRG-Toronto, Organized Working Women, Participatory Research Group, Porn, Rites, Ryerson Women's Centre, Sex Work, Student Christian Movement, Toronto Rape Crisis Centre, Toronto Women's Bookstore, U of T Women's Centre, U of T Women's Studies Program, U of T-SAC's Women's Commission, United Church of Canada, United Steel Workers of America, University of Toronto, Voice of Women, Women and the Law Caucus, Women's Archive, Women's Counselling Referral and Education Centre, Women's Law Caucus-Osgoode Hall, Women's Press, Womynly Way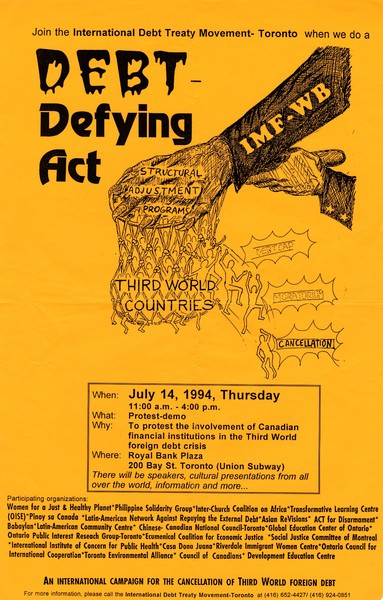 Poster advertising a rally to "protest the involvement of Canadian financial institutions in the Third World foreign debt crisis"
Tags: 1994, A.C.T. for Disarmament, Asian ReVisions, Babaylan, Bay Street, Casa Dona Juana, Chinese-Canadian National Council-Toronto, Council of Canadians, Development Education Centre, Ecumenical Coalition for Economic Justice, Global Education Center of Ontario, IMF, Inter-Church Coalition on Africa, International Debt Treaty Movement, International Institute of Concern for Public Health, Latin American Community Centre, Latin American Network Against Repaying the External Debt, Ontario Council for International Cooperation, OPIRG-Toronto, Philippine Solidarity Group, Pinoy sa Canada, Riverdale Immigrant Women's Centre, Social Justice Committee of Montreal, Toronto Environmental Alliance, Transformative Learning Centre, Women for a Just & Healthy Planet