Deviant Culture Exchange
Title
Deviant Culture Exchange
Description
Flyer for 1st (and only) Deviant Culture Exchange
Creator
Hal Kelly and Ian Danzig
Source
Hal Kelly, Personal Collection
Coverage
The Purple Institute, 42 Gladstone Avenue
Context
A night of deviant culture held at The Purple Institute art space which was on Gladstone just north of Queen. It grew out of a similarly themed radio show on CKLN hosted by Hal Kelly and Exclaim magazine's Ian Danzig - only 3 bucks!

Featuring zines such as JD's, Trash Compactor, Killbaby, Vagina Dentata and others, extremely loud garage rock bands, videos from Sinister Cinema, and Roger Corman's Swamp Women on 16mm. It was a pretty good night - unless you were the people who came early to see Swamp Women which didn't end up screening until very late. They were mad and I still feel bad.
Physical Dimensions
8.5 X 11
Files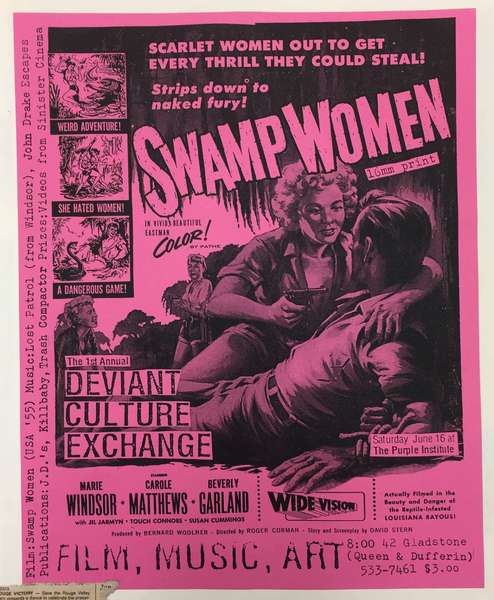 Collection
Citation
Hal Kelly and Ian Danzig, "Deviant Culture Exchange,"
Alternative Toronto
, accessed August 14, 2022,
https://www.alternativetoronto.ca/archive/items/show/105
.